Restaurants & Bars
Park Royal Cancun - Beachfront All-Inclusive Resort
Plenty of really good food and plans to keep the whole family happy.
La Veranda
El Mirador
Lobby Bar
La Duna
La Langosta
Snack El Jardin
La Veranda Patio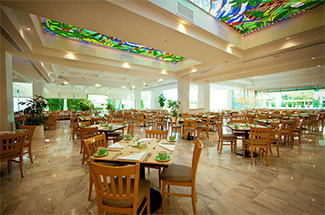 La Veranda
Breakfast: 7:00 a.m. - 11:00 a.m.
Lunch: 12:30 p.m. - 3:30 p.m.
Dinner: 6:30 p.m - 10:30 p.m.
Nearly always open, La Veranda Restaurant is the heart and soul of the hotel grounds and one of the most popular spots for mingling and relaxing. A never ending, always fresh buffet is decked out for breakfast, lunch and dinner, and there's plenty of room to relax.
Caribbean decorated and ultra-comfortable, La Veranda features views of the pool, the gardens and the entire deck area and there's no limit to the excellent cuisine. A new theme every evening means there's always something satisfying for dinner.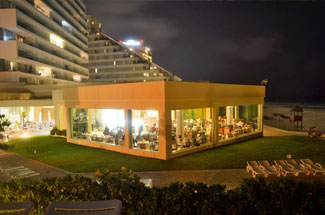 El Mirador
Dinner: 6:30 p.m. - 11:00 p.m.
Dress code: Formal - Casual
Reservations Required
Service exclusively for guests over the age of 14.

El Mirador Italian restaurant serves, nightly, the finest Mediterranean fare in softly lit, fine-dining atmosphere with stunning views of the evening Caribbean while a single violinist laments the close of each vacation day in truly elegant fashion. ""A la carte"" specials need to be described, carefully, every night by your server, and with plenty of wine and a desserts buffet to tempt even stalwart dieters, it's a delicious way to spend an evening and a follow-up capuccino is mandatory.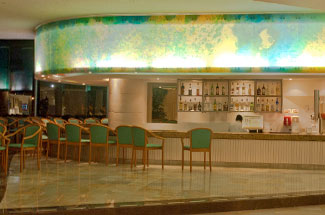 Lobby Bar
12:00 p.m. - 12:00 a.m.
With plenty of comfortable seating and drinks, the Park Royal Lobby Bar is a great ""Welcome Home."" With two large TV screens, it's a nice night cap and a traveler's central meeting point.
La Duna
11:00 a.m. to 6:00 p.m.
On the deck of the upper pool, La Duna allows guests to relax while enjoying one of the Caribbean's most heart warming ocean views. It's also just above the children's activity area and provides a quiet but nearby retreat for parents.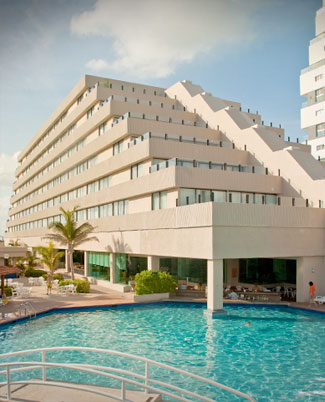 La Langosta
10:00 a.m. to 11:00 p.m.
A pool side and swim-up bar, there's always plenty going on. Serving endless kids' drinks too, La Langosta is midway between the beach and the main lobby, so it's a frequent meeting point and a thriving center for mid-vacation conferences.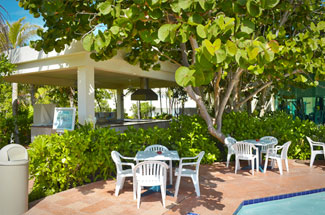 Snack El Jardin
12:00 p.m. - 6:00 p.m.
A favorite with kids of every age, the snack bar is good for all day refreshments.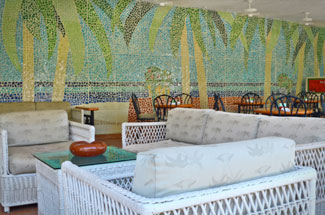 La Veranda Patio
11:00 a.m. to 12:00 p.m. & 4:00 p.m. to 6:30 p.m.
When the main dining room of La Veranda closes you can enjoy a continental breakfast or lighter afternoon fare on the patio.
Lobby Bar
Our lobby bar serves a Continental breakfast from 5:00 am – 8:00 am, bar service from 10:00 am – 1:00 am, tea time from 5:00 pm – 7:00 pm, and live music from 10:00 pm – midnight.
Wet Bar
The Wet Bar provides service to lounge chairs from 10:00 am – 7:00 pm.